The platform (Data Insurance Platform of the Technology), which provides services like data backup, disaster recovery (replication) and business continuity, etc. needed by all companies that conduct their business with data, independently from their activity area and scale, with "pay-as-you-go" model from a single source in Turkey, making it easy for the companies to focus on their own businesses independently from all technologic infrastructure problems that might occur.
Faaliyet alanı ve ölçekten bağımsız olarak işini veriyle gerçekleştiren her şirketin ihtiyaç duyduğu veri yedekleme, felaket yönetimi (replikasyon) ve iş sürekliliği gibi hizmetleri Türkiye'de tek elden "kullandığın kadar öde" modeli ile sağlayan Teknolojinin Veri Kaskosu Platformu, meydana gelebilecek tüm teknolojik altyapı sorunlarından bağımsız olarak kurumların kendi işlerine odaklanmalarını kolaylaştırıyor.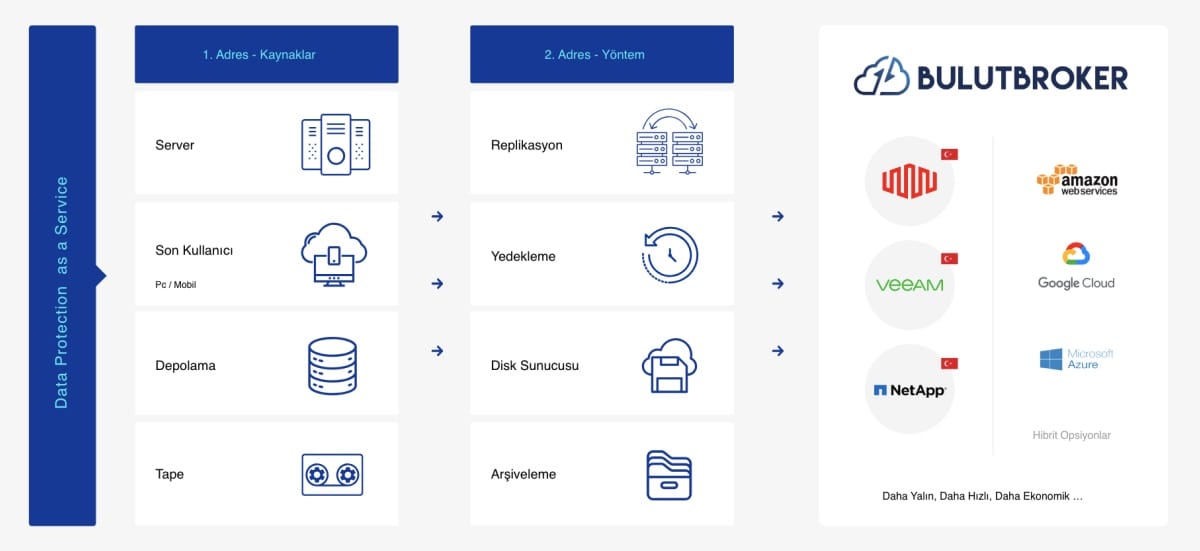 CLOUD ARCHIVE
The information stored in the world grows twofold every year by producing information as much as the digital data produced until that day. While the data produced by enterprises also increases at a similar rate, the size of the data required to be retained by law grows exponentially. The infrastructure required for storing data like transaction records, documents, sound recordings, video records, XML data, customer information produced by business applications is increasing, IT managers are striving to meet the expectations of improving costs and increasing operational efficiency.
Cloud data archiving solution allows you to retrieve the data from any system or storage infrastructure and archive the retrieved data as encrypted. The data you want to archive can both consist of the data you may need in your business instantaneously and also the data that is not generally business-critical and of low importance but you are obliged to keep. This solution can be provided in three different ways, or these three methods can be offerred in an integrated manner.
Hot Archive
It enables archiving of the data that you may need instantly in everyday business life. You can access and use this data in seconds. In this way, depending on the size of the data to be accessed the fastest, along with the cloud, a physical hardware and/or software can also be deployed in the location of the company.
Standart Archive
It enables archiving of the data that does not need continuous access and has high storage costs with classical methods. You can access and use this data within minutes. This data is stored in encrypted form for you in the BulutBroker (CloudBroker) data centers in Turkey. BulutBroker data centers have international information security certificates.
Cold Archive
It enables archiving of the data that businesses are required to keep because of the legal obligations of public and regulatory agencies. However, archiving of high-cost data such as high-quality video or audio recording in lower cost global data centers can also be provided. Access to this data is provided within hours.
CLOUD BACKUP
While data backup and recovery is now a vital discipline for all organizations, whereas it is often seen as a costly, difficult to manage and burdensome process. While most backup problems are experienced at night, if you don't have a team that follows the process, companies can take their business to an irreversible point by having to face the risk of data loss.
Thanks to cloud backup services, you can reduce your workload and switch to reliable disk backup technologies instead of older generation tape technologies by moving your system to the cloud. You can view and manage all your backups from a single screen. You can achieve your short Recovery Time Objective (RTO) and low Recovery Point Objective (RPO).
Secure your business by backing up your data with the 3-2-1 rule particularly recommended lately.
The 3-2-1 rule basicly includes the following steps:
Have at least three copies of your data
Store the copies on two different media
Keep one backup copy off-site.
BulutBroker provides solutions for all steps of your backup needs. It offers consultancy for the installation of your backup infrastructure in your environment, provides the installation of the infrastructure and can offer an end-to-end managed service. It recommends its own data center infrastructure in Turkey to send your backup to a remote location. It can offer this with hybrid structures with the services of Global Service Providers in line with the demands of the companies.
BulutBroker works on the basic principles designed to provide the right service for your needs:
All our customers are different from each other; a fixed solution does not fit every company.
Our goal is to take the workload off the shoulders of your IT teams and to ensure that backup operations do not affect your business process.
BulutBroker is responsible for a successful backup service. (via agreed SLAs)
You pay as you go.
BulutBroker is responsible for preventing data loss in accordance with the agreement.
CLOUD REPLICATION
The increase in virtualization technologies, broadband internet and mobile use increases the uninterrupted access and operation needs of end users. Interruption of server infrastructures, in the event of a systemic failure, virus attacks or in an extraordinary situation, leads to data and material losses. In companies that try to solve their business continuity needs - software and hardware - within their own organization, these investments return to IT managers as a huge investment expenditure.
The cloud replication service enables real-time copying of data and applications on your physical or virtual servers to virtual servers located in BulutBroker data centers. In case of a disruption, you can continue your business without interruption and losing data by activating the virtual server located at the second location. With BulutBroker's managed cloud replication service, you can create your business continuity solution with the pay-as-you-go model without making a second hardware or data center investment. You can achieve your short Recovery Time Objective (RTO) and low Recovery Point Objective (RPO).
With cloud replication solution, the replication software and the virtual server capacity required are offered from BulutBroker's data centers located in Turkey. This can also be offered in hybrid structures with the services of Global Service Providers in line with the demands of the companies.
DISASTER RECOVERY
In cases of extraordinary situations or person-based problems caused by natural disasters, it is vital for institutions to recover and maintain their technology infrastructure. In many sectors, business processes and IT systems are so intertwined that system interruption can result in high costs. Processes and methods used for the sustainability of data and security of IT infrastructures to ensure business continuity refer to Disaster Recovery services. The process of planning potential problems is called "Business Continuity Planning". In this planning phase, firstly, possible threats and risks are identified, and the probability and effects of these risks are analyzed, and the measures to be taken are determined.
 
One of the stages of Business Continuity Planning is "Disaster Recovery Planning". Disaster Recovery plans the necessary infrastructure by determining the steps that need to be taken to make the systems operational again, in case the systems of the institution somehow become inoperable.
Disaster Recovery aims to keep the vital ones of the corporate IT systems operational or to get them back up and running in a short time. For this, firstly, IT software and hardware systems are prioritized in terms of importance. How long the systems may remain "off" is determined. To do this in a proper way is very important for the costs of the Disaster Recovery system. As a result of this study, the scene similar to the following comes to fore:
The systems that need to be up and running within one day during a disaster
Active Directory
Database Server
Application Server
Terminal Server
Accounting Software
Internet Mail Server
The systems that need to be up and running within one week during a disaster
Document Management System
Human Resources System
Antivirus and Windows Updating Server
SSL-VPN System
Fax Server
Anti-Spam System
The systems that need to be up and running within 30 days during a disaster
Network Monitoring System
Archiving System
Adventages of Disaster Recovery System (ICON)
Business Continuity
Data Loss Risk is removed
Business continuity is ensured without loss during a disaster.
Costs are reduced and competitive advantage gained as the systems are kept up and running.
In line with the demand, 7/24 access to required information can be attained.
Our goal is to ensure continuity of the operation as fast and smoothly as possible, and to ensure that the relevant systems are put into operation as soon as possible to avoid significant risks such as data loss in an extraordinary situation.
We offer our disaster prevention solution to institutions with our expert technical staff and local & global technology partners in order to ensure business continuity in the systems and in target periods determined with disaster recovery planning.
BUSINESS CONTINUITY
Rapidly developing technologies and complex processes that require the participation of internal and external stakeholders create new business opportunities, but also bring along many threats and weaknesses that can interrupt business processes. In today's competitive conditions; organizations do not tolerate processes and systems not offering any alternative to long-term interruptions and slow response times. Business continuity refers to entire processes, rules, decisions and activities that organizations need to apply against any threat that may affect their daily operations. From this point of view, business continuity framework is a "Plan B" that runs to the aid of organizations in difficult times. In order to provide the highest possible value to its stakeholders, BulutBroker places the utmost importance in ensuring the continuity of all business processes and corporate operations.
Operational risk management activities of BulutBroker along with continuous reviews and improvements are carried out on a platform composed of all relevant employees, within a planned road map and in a manner to include emergency response, crises management, business continuity and recovery phases during the incident. As Business Continuity solutions: We minimize losses resulting from business and production interruptions that may occur in the event of supply chain problems, information system outages, machine failures, fire, natural disasters and similar operational risks. BulutBroker carries out the works for creating business continuity policies and plans together with related functions, and spreading across the institution, updating and testing them. The ultimate aim of these works; without compromising product safety and quality, compliance with laws and regulations, corporate reputation and social responsibility awareness, priority and value given to human life, environmental awareness; is to:
• ensure incident/emergency management and proper internal/external communication flow that occurs when business processes are interrupted
• develop and continuously improve response plans in order to ensure that our critical services are provided to our customers without interruption.
• take advantage of all resources effectively and efficiently, when personnel and other resources are limited
• minimize downtime for companies, customers, suppliers and other critical stakeholders
• perform the restoration of normal working order in the most effective way, following the recovery works to be carried out after the possible interruption
• make investments to improve company infrastructure to reduce the probabilities of interruption
• reduce the financial and nominal negative effects of business interruption.

What are the Benefits of Business Continuity Framework? (ICON)
• Ensuring an effective business continuity management in the organization as a whole
• Providing a competitive advantage by ensuring the continuity of the services provided to your customers.
• Minimizing pecuniary damages that may incur in emergencies and potentially risky situations
• Ensuring compliance with the legislation and standards in the industry within the scope of business continuity management
• Accessibility of the systems and processes
As BulutBroker, we ensure that you are prepared for events that may affect your business and processes, and in such a case, we provide services to institutions that will enable them to manage the processes as previously planned.
Bulutistan hizmetleri hakkında detaylı bilgi için
sizi arayalım.
Bu ürünü kullanan müşterilerimiz